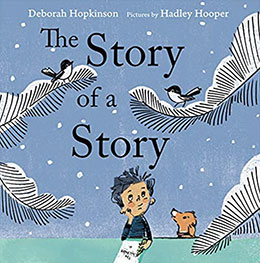 If you've ever tried to write a sto­ry of your own, you know it's not as easy as it looks. Words get tan­gled, pen­cils get bro­ken, piles of pages get crum­pled up. It's so much eas­i­er just to read all the love­ly sto­ries oth­er peo­ple have writ­ten. … But their sto­ries aren't your sto­ries, and your tale is worth telling.
A most­ly emp­ty page
Then anoth­er.
And still anoth­er.
There are squig­gles.
There are doo­dles.
But the words won't come.
With the gen­tle reas­sur­ance of expe­ri­ence, two-time SCBWI Gold­en Kite Award Win­ner Deb­o­rah Hop­kin­son writes a sto­ry that encour­ages per­sis­tence, and cel­e­brates the strength of every child's unique voice and the sto­ry they have to tell. Charm­ing illus­tra­tions by Hadley Hoop­er detail the child's efforts—and the stroke of inspi­ra­tion that helps him get going.
This is the per­fect pic­ture book for kids who love sto­ries and have big ideas of their own. Young read­ers who don't know where to start will be encour­aged by the gen­tle humor, and a page of sto­ry-start­ing ideas offers the oppor­tu­ni­ty to expand the expe­ri­ence beyond the book.
Coop­er­a­tive Chil­dren's Book Cen­ter Choic­es 2021, Uni­ver­si­ty of Wisconsin-Madison
Junior Library Guild Gold Stan­dard Selection
"A spare lyri­cism per­vades this poet­ic pic­ture book about writ­ing by Hop­kin­son. … A gen­tle, lumi­nous explo­ration for aspir­ing writ­ers." (Pub­lish­ers Week­ly, starred review)
"[A] poet­ic nar­ra­tive, with qui­et, thought­ful illus­tra­tions.… Hopkinson's words gen­tly encour­age read­ers to remem­ber that this craft takes patience, but also how there is some­thing remark­able about find­ing your unique voice. VERDICT A com­fort­ing read for any­one who writes … this book will ease young scribes into their next sto­ry." (School Library Jour­nal, starred review)
"Charm­ing illustrations—made using pen, ink, and paint, and com­plet­ed on Photoshop—are delight­ful to pore over." (Book­list, starred review)
"Hopkinson's sto­ry about a sto­ry, which clos­es with a writ­ing … is gen­uine­ly inspir­ing, a tuto­r­i­al on writer's block that nev­er patron­izes the child read­ers at whom it's aimed." (The Horn Book)
"While the book is obvi­ous­ly tar­get­ed at aspir­ing writ­ers, the mes­sage of per­sis­tence is applic­a­ble to the devel­op­ment of any skill. … Illus­tra­tions teem with tex­ture and vibrant col­or … an easy go-to for an ear­ly lan­guage arts les­son." (Bul­letin of the Cen­ter for Chil­dren's Books)
"An appro­pri­ate choice for a teacher, librar­i­an, or edu­ca­tor intro­duc­ing a cre­ative writ­ing unit…." (Kirkus Reviews)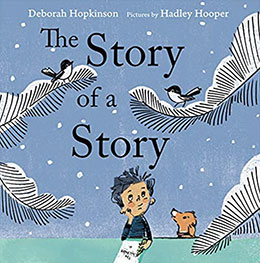 author, Deb­o­rah Hop­kin­son
illus­tra­tor, Hadley Hoop­er
Neal Porter Books
Hol­i­day House
ages 4 to 8, 2021
ISBN 978–0823444915