The Whole Story from Soup to Nuts of How Fannie Farmer Invented Recipes with Precise Measurements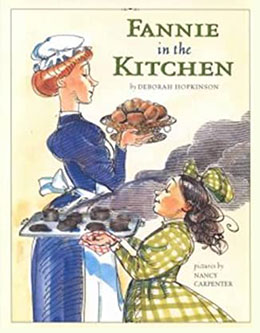 Mar­cia was try­ing to help her mama. So maybe bal­anc­ing on top of a tow­er of chairs to dip can­dles was­n't such a good idea. And per­haps her bis­cuits worked bet­ter as doorstops than dessert. Still, does her mama real­ly need to hire a moth­er's helper?
Then Fan­nie Farmer steps into their kitchen, and all of a sud­den the bis­cuits are dain­ty and the grid­dle cakes aren't quite so … al dente. As Fan­nie teach­es Mar­cia all about cook­ing, from how to flip a grid­dle cake at pre­cise­ly the right moment to how to deter­mine the fresh­ness of eggs, Mar­cia makes a won­der­ful new friend.
Here's the sto­ry "from soup to nuts" — delight­ful­ly embell­ished — of how Fan­nie Farmer invent­ed the mod­ern recipe and cre­at­ed one of the first and best-loved Amer­i­can cook­books. Nan­cy Car­pen­ter seam­less­ly incor­po­rates vin­tage engrav­ings into her pen, ink, and water­col­or illus­tra­tions, deli­cious­ly evok­ing the feel­ing of a time gone by.
"Apt­ly divid­ed into 'cours­es,' the book's live­ly, descrip­tive prose con­veys Mar­ci­a's frus­tra­tions and joys as she fries, bakes, and mea­sures her way to tri­umph. Help­ful kitchen tips from ear­ly edi­tions of the real Fan­nie Farmer's Boston Cook­ing School Cook­book abound in dia­logue and appear in 'Fan­nie's Hints,' clev­er­ly framed and hung like pic­tures on the walls of Mar­ci­a's home. The col­lage art­work is exceptional—elegant as well as whim­si­cal. Car­pen­ter brings togeth­er orig­i­nal pen-and-ink art­work and engrav­ings, all washed in water­col­or, to cre­ate a house­ful of expres­sive char­ac­ters and abun­dant, often wit­ty details that cap­ture aspects of Vic­to­ri­an life and excess." (Book­list, starred review)
"Pre­pared to per­fec­tion and served up with style, this his­tor­i­cal nugget imag­ines an inter­lude in the life of cook­book pio­neer Fan­nie Farmer, who, pri­or to her stint at the Boston Cook­ing School, worked as a moth­er's helper. … Clev­er­ly served up in sev­en brief 'cours­es,' the pro­ceed­ings are gar­nished with Car­pen­ter's irrev­er­ent illus­tra­tions, which seam­less­ly incor­po­rate peri­od engrav­ings with­in pen-and-wash draw­ings." (Pub­lish­ers Week­ly)
"The play­ful nature of both the illus­tra­tions and the text is appeal­ing, and serves to draw read­ers into the sto­ry. The short bio­graph­i­cal sketch, 'More about Fan­nie Farmer,' helps to round out the account, and a recipe for grid­dle cakes, which play a sig­nif­i­cant role in the tale, is includ­ed. In a time of celebri­ty chefs on tele­vi­sion, this is a whim­si­cal look back to when it all began." (School Library Jour­nal)
"Con­sid­ered the pio­neer of the mod­ern recipe, Fan­nie Farmer trans­formed count­less kitchens into oases of exact mea­sure­ments and per­fect cook­ing. Deb­o­rah Hop­kin­son's fic­tion­al­ized account, com­plete with orig­i­nal grid­dle cakes recipe, is a warm, humor­ous take on the real Fan­nie Farmer. Nan­cy Car­pen­ter cre­at­ed splen­did­ly orig­i­nal illus­tra­tions for the book, manip­u­lat­ing 19th-cen­tu­ry etch­ings and engrav­ings and blend­ing them with her own water­col­or and pen-and-ink illus­tra­tions. Won­der­ful!" (Emi­ly Coul­ter, Amazon.com)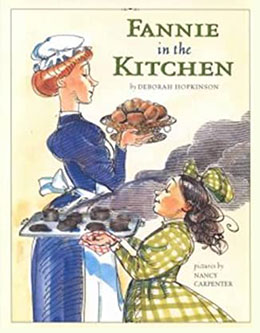 author, Deb­o­rah Hop­kin­son
illus­tra­tor, Nan­cy Car­pen­ter
Atheneum
ages 4 and up, 2001
ISBN 978–0689819650