Being the (Slightly) True Narrative of How a Brave Pioneer Father Brought Apples, Peaches, Pears, Plums, Grapes, and Cherries (and Children) Across the Plains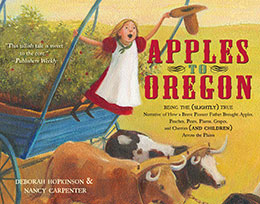 When Papa decides to pull up roots and move from Iowa to Ore­gon, he can't bear to leave his pre­cious apple trees behind. Or his peach­es, plums, grapes, cher­ries, and pears. Oh, and he takes his fam­i­ly along too. But the trail is cru­el — first there's a riv­er to cross that's wider than Texas … and then there are hail­stones as big as plums … and there's even a drought, sure to crisp the cher­ries. Those poor pip­pins! Luck­i­ly Deli­cious (the noned­i­ble apple of Dad­dy's eye) is strong — as young 'uns raised on apples are — and won't let any­thing stop her father's dar­ling saps from tast­ing the sweet Ore­gon soil.

Here's a hilar­i­ous tall tale — from the team that brought you Fan­nie in the Kitchen — that's loose­ly based on the life of a real fruit­ing pioneer.
Gold­en Kite Award for Pic­ture Book Text
Spur Award
Time of Won­der Children's Book 2009
"An author's note explains that this sto­ry is based loose­ly on Hen­der­son Luelling, a pio­neer who real­ly did trans­port plants and fruit trees to Ore­gon in 1847. Hop­kin­son's ver­sion, of course, is just pure fun and make-believe. Car­pen­ter's oil paint­ings are filled with vivid shades that reflect the chang­ing scenery. Amus­ing details abound, and the slight­ly exag­ger­at­ed humor of the pic­tures is in per­fect bal­ance with the tone of the text. The plucky heroine—wearing a bright red dress, white pinafore, and con­fi­dent smile—often takes cen­ter stage. An enter­tain­ing choice for sto­ry­times or an amus­ing sup­ple­ment to units on west­ward expan­sion." (School Library Jour­nal)
"Hop­kin­son's allit­er­a­tive tall tale is rich in lan­guage that begs to be read out loud (" 'Guard the grapes! Pro­tect the peach­es!' Dad­dy howled"), and Car­pen­ter's col­or­ful oil paint­ings add to the exag­ger­at­ed fun. " (Book­list)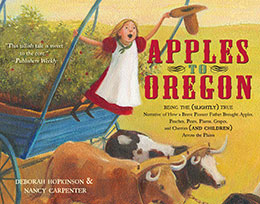 author, Deb­o­rah Hop­kin­son
illus­tra­tor, Nan­cy Car­pen­ter
Atheneum Books for Young Read­ers
ages 4 and up, 2004
ISBN 978–0689847691